By fromart |
03
August 2023 |
0
Comments
Illuminate Your Beauty with FROMART Vanity Light Mirror
Makeup is an art, and the right tools can transform you into a pro artist. One of the essential tools in your vanity is a vanity light mirror. Whether you are a professional makeup artist or just an everyday makeup lover, having a vanity mirror with lights can make a big difference in how your makeup looks. In this blog post, we want to introduce you to the FROMART
LED Vanity Mirror
, a high-quality, stylish, and functional vanity light mirror.
1. High-Quality Mirror with LED Lights
The FROMART LED Vanity Mirror features high-quality glass that provides clear and distortion-free reflection. With this mirror, you can apply your makeup with precision, as you will be able to see every detail of your face. The mirror is surrounded by LED lights that provide natural lighting that closely resembles daylight. This feature is particularly useful for applying makeup, as it allows you to see the true colors of your makeup and avoid harsh shadows that can make your makeup look uneven.
2. Adjustable Light Settings
The FROMART LED Vanity Mirror comes with adjustable light settings that allow you to adjust the brightness and color temperature of the lights based on your preference. The mirror has four light settings, including Cool Daylight, Warm Light, Natural Light, and Dimmable Light. You can choose the light setting that works best for the time of day, occasion, or your makeup needs. With the dimmable light setting, you can also adjust the light to the perfect brightness to avoid eye strain or glare.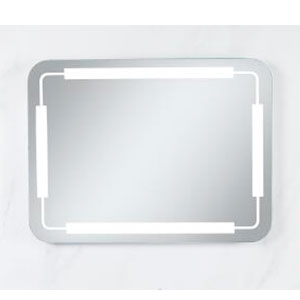 3. Convenient and Stylish Design
The FROMART LED Vanity Mirror features a sleek and modern design that will fit perfectly into your room's decor. It has a convenient 360-degree rotation feature that allows you to adjust the mirror to the perfect angle for easy viewing. The mirror is also dual-powered, and you can either use USB or battery power. This feature makes the mirror convenient to use at home or when traveling. Additionally, the mirror has a touch sensor button that you can use to turn on/off the light and adjust the light settings.
4. Easy to Clean and Maintain
The FROMART LED Vanity Mirror is made of high-quality materials that are easy to clean and maintain. The mirror is dust and fingerprint-proof, making it easy to keep clean and maintain its shiny look. Additionally, the LED lights are energy-efficient and long-lasting, which means you will not have to replace them often, saving you money and time.
Investing in a high-quality vanity light mirror is essential for anyone who loves makeup. The FROMART LED Vanity Mirror is an excellent choice for anyone who wants a high-quality, stylish, and functional vanity mirror with lights. With its adjustable light settings, convenient and stylish design, and easy-to-clean materials, the FROMART LED Vanity Mirror is the perfect tool to help you achieve flawless makeup looks every time. If you want to purchase the FROMART LED Vanity Mirror, you can contact us via E-mail: sales@fromart.com or Tel:(8620)8751 8222.
Leave a Reply
Your email address will not be published.Required fields are marked. *